Diskusfisken kommer från Amazonas i Sydamerika. Där finns den, enligt uppgift i Dr Herbert Axelrods böcker, framförallt i Brasilien men också i östra Colombia och Peru, och möjligen även i Venezuela. Diskusen är en ciklid och tillhör familjen Cichlidae. Utmärkande för ciklidfamiljen är bl.a. fiskarnas beteenden med revirhävdande, lek, inlärning, kommunikation m.m. Diskusens intressanta lekbeteende med yngelvård stämmer väl in på beskrivningen av beteenden typiska för ciklidfamiljen.
Diskusen är pannkaksrund och i storlek 14-18 cm. De första diskusfiskarna upptäcktes runt år 1840 men det tilldrog sig ingen större uppmärksamhet. Först under mitten av 1930-talet började intresset för diskus att tillta. Detta avsnitt ger en genomgång av artindelning av olika diskus men också exempel på de nya färgvarianter som korsats fram.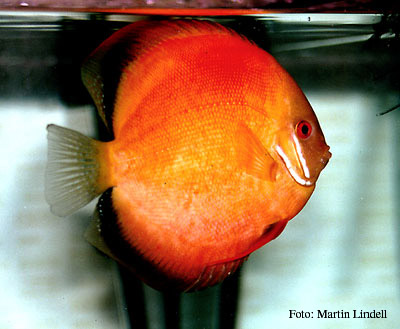 En solid röd diskus från Asien. Denna typ av diskusar finns inte i naturen.
Enligt den senaste forskningen finns det två arter av diskus; Symphosodon heckel (Symphysodon discus discus & Symphysodon discus discus williischwartzi) och Symphosodon aequifasciatus (Symphysdon aequifasciatus haraldi & Symphysodon aequifasciatus axelrodi & Symphysdon aequifasciatus aequifasciatus). För den som vill veta mer kan vi rekommendera "Cichlid fishes of Amazon River drainage of Peru" skriven av forskaren Sven O Kullander eller att man tittar efter Dr. Fan Ligun´s forskningsarbete på Internet.