Domare och föredrag
Domare
Frank Tinnes,                  Tyskland
Heiko Bleher,                   Italien
Dirk Schlingmann,         Tyskland
Tony Vaughan,                Irland
Iovino Gennarino,          Italien
Mark Evenden,                England
Yann Hoiret,                     Frankrike
Föredragshållare/Domare
---
Heiko Bleher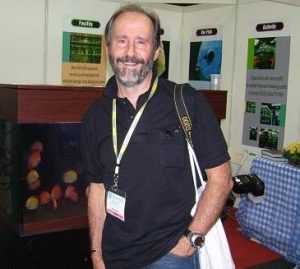 Född                       18 oktober 1944 (73 år) Frankfurt Main - Tyskland
Nationalitet         tysk
Känd för                Ichthyological och botanisk fältforskning över hela världen
Utmärkelser       1987 Guinness bok Rekord för upptäckten av den största sötvattenssågfisken som finns i Centrala Australien
1982; 1993 Chevalier des Grand Ordre Rocamadour du Diamant noir;
2008 Årets forskare CAOAC;
2009 Medlem i The Explorers Club
Vetenskaplig karriär Fält Explorer, Forskare, Fotograf, Filmskapare, Författare, Redaktör
Engelska
Known for
Contribution to the exploration of freshwater habitats in 217 countries and the discovery and rediscovery of over 7000 fresh and brackish water fish species, for scientific researchers, for Institutions, Universities and Museums; discoverering many new aquarium plants. Many fish and plant species are named after him
1967-1997    Aquarium Rio in Frankfurt, Germany; largest importer & exporter of ornamental fish worldwide, exporting to 89 countries.
1975             Founder of the German Ornamental Fish Wholesaler Association in
1977               Founded the renowned OFI, Ornamental Fish International
1992-2004     Founded the quarterly magazine aqua geõgraphia for Aquaprint (today Aquapress Publishers, Italy)   
2004               Publishing The Revision of the Genus Echinodorus by Karl Rataj           
2006            Publishing Bleher's Discus volume 1 with 750 pages, 4000 photos   & drawings
2010          Begin of yearly production of DISCUSBOOK magazine, with ewest  discoveries, biotopes, international aquatic events and seminars around the globe
2011              Publishing Bleher's Discus volume 2 again 750 pages, 4000 photos
2012-             Begin of writing the books (2), for MPEDA: India – Ornamental Fish
Reference
http://en.wikipedia.org/wiki/Heiko_Bleher
http://www.aquapress-bleher.com/list-of-articles/
---
Hans Evers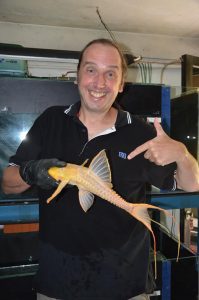 Svenska
Hans-Georg Evers (född den 27 augusti 1964) är en akvarist, nonfiction-författare och chefredaktör för akvarietidningen "AMAZONAS". Framför allt reser Evers till Sydamerika och Asien för att upptäcka nya fiskar och importera dem för att få fram avkommor. Han har hittills hanterat omkring 350 fiskarter, många av dem odlade för första gången. Arten Oryzias eversi, en risfisk från Sulawesi och Corydoras eversi, en kortnosig Pansarmal från området Rio Araguaia, Brasilien, namnges efter deras upptäckare.
Evers har författat hundratals specialartiklar och tio böcker, en del som medförfattare, främst på sydamerikanska malar. Sedan 2005 är han chefredaktör för den tvåmånaders utkommande Natur och Tier Verlag förekommande sötvatten-akvaristik tidningen "AMAZONAS". Han arbetar också som föreläsare.
Hans-Georg Evers bor och arbetar i Hamburg.
Engelska
Hans – Georg Evers lives in Hamburg, Germany and is since his very early days an aquarist by heart. Starting with a community tank his interest soon specialised in African cichlids of the Lake Tanganjika and lateron West Africa. In the early eighties his main interest changed to the catfishes and until today the Corydoradinae and Loricariidae are his most favoured fish, followed by , rainbow fish, tetras and all other imaginable freshwater fishes. Hans so far bred and raised more than 450 different species of freshwater fishes in his tanks. The majority of those are the Corydoras which count to 126 different spp. actually, but also the Loricariidae with more than 40 different spp.. His recent installation consists of about 50 tanks from very small (two gallons) up to quite big ones (almost 300 gallons).
Hans Evers is a busy traveller, giving talks on fish and collecting species. He fluently speaks English, Portuguese and a bit Spanish and visited already many tropical countries in search for new and interesting fishes and invertebrates for the aquarium hobby. Countless journeys were undertaken to the Amazon, mainly to Brazil, where he collected in all bigger affluents of the Amazonas river and other parts of the huge country. So he did in Peru, Venezuela and others. Also Asian countries, mainly Indonesia and recently India have been visited quite a few times. During the last 10 years he concentrated on the Indonesian island of Sulawesi, where he collected fish and shrimps all over the island and the Indonesian part of New Guinea. He found many scientifically new species. Oryzias eversi from Sulawesi and Corydoras eversi from Brazil have been named after him.
About his experiences and findings he published 12 books, e.g. "Mergus Atlas vol. 6", the two volumes of "Mergus catfish atlas" together with his good friend Ingo Seidel and the "Identification Guide to Corydoradinae Catfishes" with Ian Fuller, and worldwide more than 1000 articles in hobbyist magazines. Since 2005 he was the chief editor of the German aquarium magazine AMAZONAS, from 2012 on also in English language. In this magazine all new and spectacular tropical fishes, invertebrates and water plants are being promoted, including many novelties
---
Dirk Schlingmann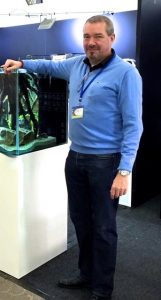 Svenska
Jag är glad för att presentera mig själv.
Jag har haft diskus som min Hobby sedan 45 år. Min första Discus hade jag  när jag var en ung pojke. Under årtiondena byggdes  mina akvarieanläggningar större och större. Som mest hade jag över 120 tankar omfattande mer än 50 000 liter vatten. Yngel av naturens avkommor och endast och med sträng avel, men utan inavel. Anskaffade min Discus från hela världen. Den första sanna röd turkos med äkta röd och inte bara brunbaserad har fötts upp i mina tankar. Den här röda turkosen blev världsberömd berömd som "Schlingmann red". Min huvud intention har alltid varit att ta hand om genetiken för att kunna föda upp riktiga diskus av hög klass. Under åren fortsatte jag i ständig kontakt med Dr. Schmidt-Focke, de bästa männen jag träffade i mitt liv! Vi kunde utbyta vår åsikt i otaliga timmar vi hade tillsammans. Jag reser till diskusföreläsningar runt om i världen för att hålla tal och besöka viktiga händelser. Publicerade otaliga artiklar runt om i världen och till idag föreläsningar allt som oftast för att dela mina kunskaper. Under tiden minskade min anläggning till max! Idag är min enda avsikt att hålla vild diskus och att odla dem, eftersom de också kan födas i naturen också. Mina Discus avkommor är endast för andra specialister. De är fullständigt fria från Discus Pest och är fullständiga fria från vilken typ av resistenta maskar, Flagellater och annat. Med min erfarenhet stöder jag bra företag att göra framstående naturbaserade produkter, testa det för att få  det bästa möjliga resultatet för diskusen i varje ögonblick!
Engelska
I was pleased to introduce myself.
I'm with discus than my Hobby since 45 Years. My first Discus has been with me when I was a young Boy. In the decades did build up my tank-facilities bigger and bigger. In the Top I had over 120 Tanks include more than 50.000 Liter of Water. Bred out of nature offsprings only and this with strict Strain-Breeding, but without inbreeding. Did export my Discus through out the world. The first true red-turquoise with real red and not only brown based has been breed in my tanks. This Red turquoise became worldwide famous than "Schlingmann red" The main intention of my has been all times to take care of the genetic to be able to breed real high class discus.
Over the years I was continue in closed contact with Dr. Schmidt-Focke, the best Men I met in my life! We could exchange our view in uncountable hours we had together.  I did travel for discus around the world to held speeches and did visit important events. Published uncountable articles around the world and till today trial every time to share my knowledge.
In the meantime reduced my facility to the max! Today the one and only intention of my is to keep wild discus and to breed them as they could born in the nature as well. The offsprings of my Discus are for other specialist only. They are complete free of the Discus Plague and complete free of any type of resistance Worms, Flagellates and others. During my experience I support good companies to make outstanding nature based products, test it and have every time the eye on the best possible result for the discus!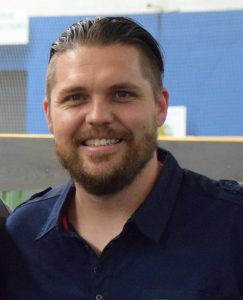 Svenska
Yann Hoiret är en fransk diskusuppfödare född i augusti 1979. Han studerade 6 år inom
vattenbruksfältet så att han kunde arbeta i olika kontinentala eller exotiska fiskodlingar. Sedan 15 år är han chef för en känd husdjursaffär. Han arbetar som författare för franska tidningen AquaMag för sin diskussionsavdelning. Ibland samarbetar han också med tyska diskuspublikationer. Hans passion för "akvariekungarna" leder honom att skapa under 2008 webbplatsen Fanatik-Discus.com, som innehåller många artiklar och rapporter. Född av genetisk och urval, specialiserade denna uppfödare sig i röda discusfödningsformer i sitt lilla kläckeri. Generellt involverade i franska tävlingar var han alltid intressant för dem, efter det internationella utställningsorganisationernas arbete, som urval och utveckling av diskusuppfödare. Han kommer nu regelbundet att döma i Europa och presentera sitt arbete dedikerat till
utarbetandet av tydliga strukturer för diskus tävlingar. Dessa för att främja hobbyn och hjälpentusiasterna får tillgång till evenemangen eller utarbeta egna avelsval.
Engelska
Yann Hoiret is a French discus breeder born in august 1979. He studied 6 years in the aquaculture field allowing him to work in different continental or exotic fish farms.
Since 15 years, he is the manager of a renowned pet shop. He works as an author for the French magazine AquaMag for its every issue discus section. Sometimes also collaborate with Germans discus publications.
His passion for the "king of aquariums" leads him to create in 2008 the website Fanatik-Discus.com containing numerous articles and reports.
Found of genetic and selection, this breeder specialized himself in red discus breeding forms in its small hatchery.
Generally Involve in French competitions, he was always interesting about them, following the international work of show organizations, as the selection and evolution of discus breeders.
He now regularly joins judging teams in Europe and present his work dedicated to the elaboration of clear structures for discus competitions. These in order to promote the hobby and help enthusiasts access the events or elaborate their own breeding selections.
---
Iovino Gennarino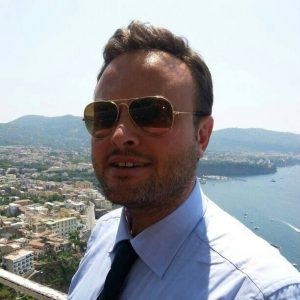 Svenska
Diskus dåre från 1995.  Jag tror på att se på riktigt är bättre än att sitta framför datorn och föreställa sig. Denna filosofi är min livsform. Jag har mött hundratals uppfödare under de senaste 20 åren, besökt de viktigaste vi har i Europa. Jag lär mig mycket av riktiga diskusmästare. Jag har sett  tonvis av diskus över hela världen. Jag var domare i Milano 2016. Jag väntar fortfarande på en sådan show, som Duisburg har. Jag känner till alla uppfödare och grossister. Europeiska och från Asien. Jag föreställde mig Napoliutställningen och besökte den. Jag bara älskar diskus. Avel och uppväxt.
Det är jag.
Engelska
"Discus maniac from 1995. I think that see directly is better then stay in front of computer and imagine. This filosofy is my way of life. I meet hundreds breeders in 20 years. Visit the most important we have in Europe. I learn a lot by real discus masters. I sow tons of discus all over the world. I judged in Milano on 2016. Still waiting some show like Duisburg one. I know all breeders and wholesalers. European and from Asia. I imagined Napoli fair, and done it. I simply love discus. Breeding and growing. That's me."
---
Mark Evenden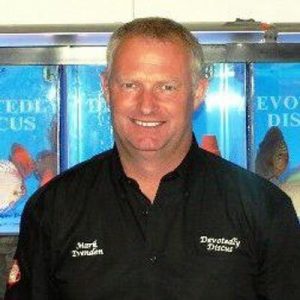 Svenska
Jag började "Devotedly Discus" 1993. Under de första åren höll vi fisk som importerades från Jack Whatley. Jag träffade då Roger Miles som introducerade oss till Stendker Uppfödning i Tyskland och vi har specialiserat sig på våra fiskar sedan 1996. Att driva en Discus-verksamhet är väldigt mycket ett sätt att leva, i stället för ett jobb och jag trivs lika mycket nu, som jag gjorde för 21 år sedan. Jag har varit på alla nordiska diskuschampionat tidigare och enligt min mening är det utan tvekan den bästa showen, av många orsaker, i Europa. Det är en ära att bli inbjuden att döma Diskusarna och jag ser väldigt mycket fram emot det.
Mark Evenden. www.devotedly-discus.co.uk
Engelska
I started "Devotedly Discus" in 1993. In the early years we kept fish imported from Jack Whatley. I then met Roger Miles who introduced us to the Stendker Hatchery in Germany and we have specialised in their fish since 1996.
Running a Discus business is very much a way of life rather than a job and I enjoy it as much now as I did 21 years ago.
I have been to all the Nordic Discus shows previously and in my opinion it is with out a doubt the best show for many reasons in Europe.
It is an honour to be invited to judge the Discus and I am very much looking forward to it.
Mark Evenden.
www.devotedly-discus.co.uk
Welcome to Devotedly Discus suppliers of Stendker Discus in the UK since 1993. We also supply Discus food, hma filters, nitrate filters and reverse osmosis filters.
DEVOTEDLY-DISCUS.CO.UK
---
Tony Vaughan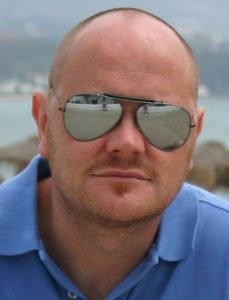 Hi, my name is Tony and I have a love for Discus. Many of the Swedish Discus Keepers will know me from my previous judging assignments in both Stockholm and Malmo.
I've been judging for over a decade and I've had the pleasure of judging across many shows in Europe and the Nordic Discus show is still one of my favourites.
I enjoy talking with other discus keepers to learn and grow my own knowledge and I am also excited to judge with some old friends and some new.
I love seeing high quality well prepared Wild Discus in shows and I believe when wild fish are prepared well they can compete with the best of domestics breeds.
Hej, jag heter Tony och jag har en kärlek till diskus. Många av diskusuppfödarna känner mig från mina tidigare bedömningsuppdrag i både Stockholm och Malmö. Jag har dömt i över ett decennium och jag har haft nöjet att döma över många utställningar i Europa och Nordic Discus-showen är fortfarande en av mina favoriter. Jag gillar att prata med andra diskusuppfödare,  för att lära mig och öka min egen kunskap och jag är också glad över att döma med några gamla vänner, och några nya. Jag älskar att se högkvalitativ välskött  vild diskus i utställningar och jag tror när vilda fiskar är väl förberedda, kan de tävla med de bästa av hemodlade.
---
Frank Tinnes
Engelska
In 1973, at the age of 10, I got my first aquarium and the first fish. These were live-bearing tooth carps. Even then, I was enthusiastic about the different behaviors and the varied colors of the fish. This enthusiasm continued during my school days and my dental technician teaching, so that there were always 2-3 aquariums in my apartment. During my studies (German studies and history) I was mainly interested in the South American cichlids, especially because of their breeding behavior and their biodiversity. In 1987, I acquired my first discus. Already in 1988 I had with these first breeding successes. From then on, the king of the Amazon fascinated me so much that my aquariums became more and more numerous and the discipline of the discus, especially the strengthening of the natural colors, took up all my free time. In 1996 my business partner Hermann Sander and I opened the Diskus-Studio in Kenzingen. In 1997, at the Wilhelma Zoo in Stuttgart, I passed the examination for special knowledge according to § 11 of the Animal Welfare Act, and gradually expanded our discus sales facility, which today is located in Endingen am Kaiserstuhl. From 1999 I was able to turn my hobby into my profession. My current facility is about 12000 liters, with the priority on wild caught and their offspring. At the turn of 2012, I succeeded in breeding with Nhamunda Heckel WF. My biggest breeding success so far besides the breeding of brown and green wilds. My main aspect of the discus care is that I make the discus, especially the wils, as naturally as possible aquariums available. So all my aquariums have sand as ground, roots as fixed points and occasionally floating plants or I give branches of shrubs and trees in the basins, as I could admire it at numerous exhibitions by Heiko Bleher. In addition, all animals get "Aqua-Kraut", which I make myself, into the feed or into the water. Especially in feed, this is an excellent supplement, because if we compare the feed composition of wild discus in their natural habitats as detailed in Bleher's Discus Volume 1 with our diet, we are far too one-sided with respect to animal food and do herbal and fruit supplements certainly good for the gastrointestinal tract of the animals. In addition to "Aqua-Kraut", I also use "Aqua-Namin" for the supply of trace elements and "Humin DSO" for enrichment with tanning and humic substances.